Book and Movie Reviews
---
Reviewed Books
---
Two Great Books for Lent
For your Lenten Devotion and Reading: Order a copy of Fr. Fitz's:
A Contemporary Way of the Cross. Archbishop Lucas has indicated he himself will be using this prayer book!
A second resource is Fr. Fitz's Spirituality in the Midst of Messiness.
It just received a glowing review by Fran Salone-Pellitier in Today's American Catholic. She wrote: "I found this book to be an elongated retreat, both personal, and communal…It's prayerful and prayer filled reflections help to pin-point reader's queries to make us stop and think…Especially helpful is Fitzgerald's explanation of the difference between messiness and chaos…"
---
A "THUMB'S UP" FOR BOTH BOOKS!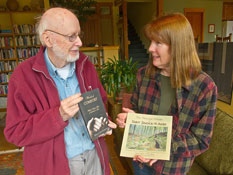 Father Fitz and his good writer friend, Susan Lamb Bean, exchanged recently published books: her book about the natural world of Saint Francis with photographs by her husband Tom Bean and his Words of Comfortfor difficult times of loss in our lives. Both are published by Tau-Publications.
Both Susan and Father Fitz have reviewed each other's books and give both books a "thumbs up!" (Susan Lamb Bean also wrote the forward for Father Fitz's Blessings for the Fast Paced and Cyber Spaced, recently republished by TAU.
---
---
Reviewed Movies
---